Schola Sarmenti Roccamora Negroamaro 2016 (750ml/12)
About Schola Sarmenti
With a history dating back 200 years, the modern story of Schola Sarmenti began in 1999, when it emerged as a modern, high-quality cooperative consisting of 5 farmers and 20 hectares. Now at 20 growers and 77 hectares, the winery is still fiercely committed an authentic expression of the precious terroir of Salento in Apulia, focusing on native varietals such as Negroamaro, Malvasia Nera, Susamaniello, and Primitivo.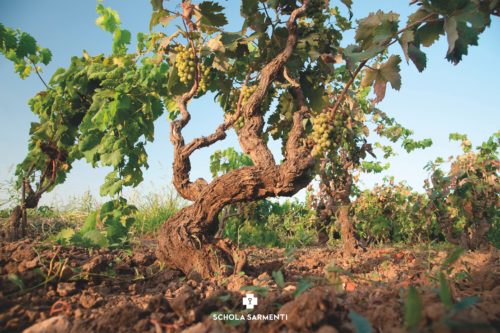 Learn More
Available Markets:
New York
,
New Jersey
,
California
Tasting Notes
Generally one of the trickier grapes to grow, Negroamaro needs strong and clever hands to give high quality and prestigious wines. Roccamora is made from 20-year-old alberello vines. Grapes are harvested by hand and gently placed in small, airy crates to preserve their integrity. The best bunches are once again selected from a sorting table.  Maturation takes place at controlled temperature in steel tanks.
Roccamora is a vigorous wine that will tantalize your palate with its velvety structure, soft tannin that leaves a slightly sour aftertaste. An olfactory explosion of spice, leather, tobacco notes and a pronounced fruity finish.