About the Winery
With a history dating back 200 years, the modern story of Schola Sarmenti began in 1999, when it emerged as a modern, high-quality cooperative consisting of 5 farmers and 20 hectares. Now at 20 growers and 77 hectares, the winery is still fiercely committed an authentic expression of the precious terroir of Salento in Apulia, focusing on native varietals such as Negroamaro, Malvasia Nera, Susamaniello, and Primitivo.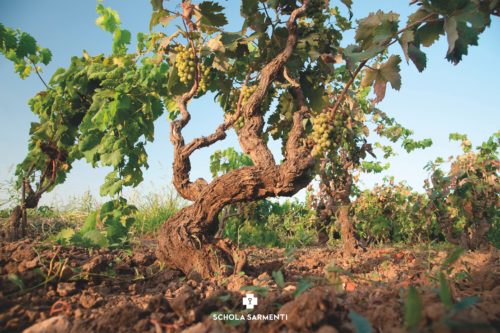 The vines, which reach up to 85 years in age, are grown with the old Apulian training system, albarello. Vines are carefully pruned in the spring, leaving just few bunches on each plant, limiting quantity for quality. All the vineyards are a stone's throw from the sea, receiving the benefits from its mitigating influences, and grapes are grown organically without using any chemical fertilizers. Bunches are hand harvested individually before being placed in shallow crates and transported to the winery, where the best grapes are selected to be transformed by innovative technologies into high-quality wines, several which have received international recognition for their quality and authenticity. Many wines are then aged in French oak tonneaux  in the stunning cellar 4 meters below the ground.
THE FAMILIES BEHIND THE WINE
Schola Sarmenti was born from the union of dreams, passion, and pride. The Marra and Calabrese families have always had a strong connection with land and winemaking, and several of the current most precious old-vine, albarello-trained vineyards were planted by their ancestors. Only when the two families became one thanks to a marriage, the dream of realizing their own wineries was obtainable for brothers-in-law Lorenzo Marra and Alessandro Calabrese. In 2000, that dream became an intense scent of wine, the scent of the very first grape harvested. There was a true change in the air and it was not only because of grapes become wine, but of hearts full of passion. Today that dreams lives on through Schola Sarmenti's exceptional wines.